Nothing suck quite as bad as a nasty knee injury to put you out of the game for a while. It could be on the sports field, in the gym, on the track or in the ring, and it can keep you on crutches or even bed ridden for weeks.  Whether it has been a severe accident that requires hospitalization or just a minor knee sprain that needs a bit of ice and rest, you can make sure that your knee heals up nice and well by investing in a good athletic knee brace.  As you are aware, a high-quality knee support can be a real aid o the healing process, and in order to speed it up and keep you safe while doing so, we've developed this page for you.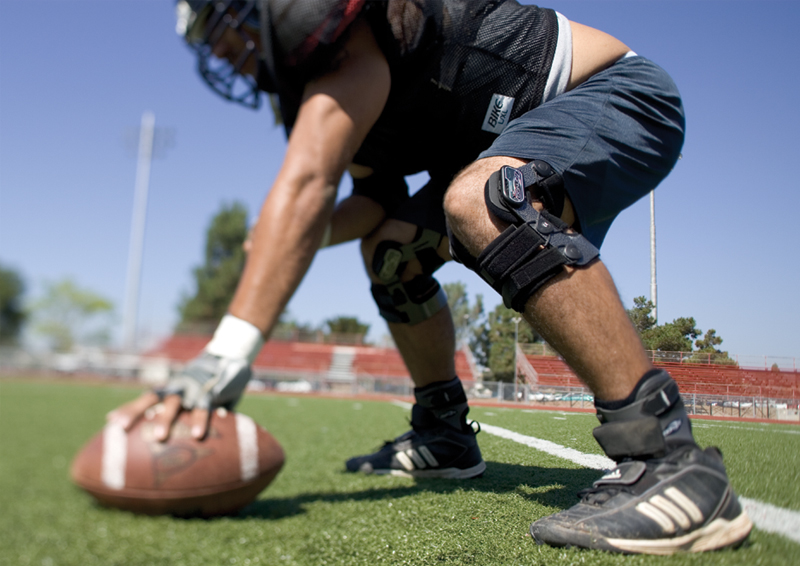 There are many different kinds of knee brace, some of which are designed to help with healing, others to support you while go get back on the pitch, and some others that have ice packs or heating packs built in.  Whatever you're looking for, here at Apex Health and Care, we've done the research on the best knee support braces and compression sleeves around in order to save you time and effort, and we're sure that you'll find the right rknee product for you here.  So let us help you get back into fighting shape as soon as possible.
Why Wear an Athletic Knee Brace
These Knee straps and sleeves work in a variety of different ways, but unlike orthopedic devices, all the ones on this page a designed to help you with your sport of choice.  For many people, they are used to help heal common knee injuries and knee pain, such as  fractures, ACL injuries, dislocations, meniscal tears, bursitis, tendonitis, tendon tears and much more.  If you've had one of these types of accident, your doctor or physio therapist will often recommend that you wear a knee splint to aid in the healing.  This is because it will hold your knee in the proper position to allow you body to repair the damage, and make sure that you can't bend or strain the knee further.  It will also give you that nice bit of added stability while your knee is weak.
They can also be effective for pain relief, as in many patients, the extra circulation encouraged by the knee sleeve helps bring the pain down.  They may also help keep the swelling down, but you really should check with a health care professional before putting one on a swollen knee.
For others, they may have had permanent damage to their knees, especially if they've played a demanding sport like football or basketball at a high or professional level.  In this case, a knee support might be required for further exercise just to keep you moving and avoid any more injury.
Considerations on Buying an Athletic Knee Brace
Before you buy a knee support, you'll want to double check on a few things, as there can be quite a lot of variety in them.
Materials – A good knee product should be made of a comfortable and breathable material.  You don't want it itching and irritating your skin, and as you will probably be wearing this while exercising or training, you'll want something that is cool and also something that won't make you sweat incredible amounts underneath.  Therefore, you should make sure that it is made of a good material
Type – There are all different types, and you should find one to suit you.  There are some very lightweight ones that simply compress and give a tiny bit of support all the way to heavy and bulky ones that give you the maximum protection and stability.  Your doctor, coach or therapist should be able to recommend the best type for you
Durability – You'll want to get a knee splint that will last you a long time, so we recommend looking for something made of sturdy fabrics and also something with double stitching.  this should make sure that it lasts for many hears.
How long to wear it for – Unless you have been specifically advised to do so buy a doctor, we don't recommend that you wear the knee brace all the time.  For one, its good to use it sparingly so you can air out your skin and let it breathe.  Also, research has shown that if you wear a brace for two long, your leg muscles and joints get used to the added support from the brace, and actually end up getting weaker.  Therefore, you should see most knee braces as a temporary fix to help you heal up and practice for a time.  Please listen to your doctors advice on how long to wear it and how often to wear it.
9 Athletic Knee Braces 
Exodus Knee Protector
 Whether your healing from injury or getting back on the tennis court after a long lay off, this true non-slip knee splint will give you the stability and strength you need to get back into action. This brace has a unique 4 way compression system that embraces the knee from every angle, providing both lateral and medial support to turn a weak knee into a powerhouse of strength.  It also has two dedicated patella straps that support the patella tendon and stabilize your the knee cap.  Also, the extra power provide by the 4 way strap system will endure that this brace stays on very tightly, but not too tight, so you'll never have to worry about it slipping off and hugging round your ankles, which can be a bit embarrassing if you're in the middle of a match.
Although we don't recommend it, the manufacturers say that you can wear this all day if you wish to. It does have soft lining made of jacquard lycra , a common material for undergarments, so it should feel nice and smooth and avoid rashes and skin irritation.  Again, check with your doctor before wearing it all day. This is a really great knee support; the only downside we see is that it seems to have a quite a specific size of leg it was designed to fit.  Please check the specs below before purchasing. 
Specs:
will only fit a maximum upper leg circumference of 20″ and thigh about 3″ above the kneecap
must be a minimum of around 13″ or it may well be too loose for your knee
lower calf leg muscle must also be within 16″-18″ to again git with comfort
Bracoo Knee Support Brace 
Sitting on the sidelines with a knee injury sucks bad, so make sure you can get back to practice as soon as possible by picking up this great support. This knee product has been specially manufacturer for helping with post-surgery knee pain and arthritis. Anyone with damage to ACL, PCL, and MCL ligaments should check this out, as it will help with general recovery as well as protecting against re-injury.
This really has been made to accommodate for many different circumstances, providing both extra support and compression in increase blood circulation.  What make it stand out is the company's open-patella design, which relieves stress in this area of the knee, while the padded stabilizers holds the knee in the right place, especially the knee cap.  It also has three sturdy Velcro straps which can be adjusted to get the tightness you want, and will stop the brace slipping off.
All of this would be useless if the brace was itchy or uncomfortable to wear.  Well, good news is that this is made using extra-thick neoprene not only give you the power and support you need, but will feel nice on your skin .  It also has some genius perforated moisture vents across the entire support which will let the sweat escape so it doesn't clog up your pours and make your knee stink. .
Shock Doctor Knee Support for Running
To be honest, we feel in love with the name at first with this support – Shock Doctor sounds really cool right?  But on closer inspection, this knee aid really lives up to its name.  This great piece of kit offers exceptional medial and lateral stability, protecting from further strain and giving you the power to get back on your feet and back in the gym, confident that your knee injury or condition won't stand between you and a great work out. Sprains, muscle strains and unstable joints will all benefit from this. It also looks like some kind of cool robotic armor, which we dig.  Soon everyone at the gym will be wearing one just to look cool.
This is also made from some impressive materials.  Its cotton blends are lightweight but strong, and it has N-TexTM technology for moisture wicking that sweat away and also giving therapeutic warmth and healing.  Best of all, it has integrated antimicrobial technology to reduce odor causing bacteria and stop this getting stinky.  Also, if your allergic to latex, this is completely latex free. 
What we really love about this one is not only its cool name, but the fact that it comes in three different versions, one for light support, one for medium, and one for maximum stability, and each one has a different configuration of straps, so we are sure that you can find one which is perfect for you.  Heal up in style with this cool brace
Win Zone Knee Support for Arthritis
Arthritis can be a really terrible condition to live with, as it restricts you from so many things.  However, with this specially designed knee support, you might be able to get back on the running tracks and burn some calories again. Even just for a bit of pain relief, this very durable 100% neoprene brace might be just the helping hand you are looking for. It is very comfortable to ear, and has a good non-slip design to keep it in the proper place while you work out.  It is also good for those with pain in their  MCL or ACL.

What we really like about this one is that it is 100% machine washable, so you can wear it to the gym or out and about and you'll know that you can always wash all the sweat and grim away.
TUFFBRACE ATHLETICS Knee Sleeves
If you're suffering from pain from arthritis, torn meniscus or ACL tears, its time to get some relief and extra protection from this amazing knee sleeve. This is a proper fitting knee brace that applies a perfect amount of pressure at just the right spots to help cut down on knee pain. It can also stabilize the knee cap for patella tracking, runners knee and bursitis, all the while protecting from further injury or hyper extending knee. 
While many of the knee straps we've looked at are quite big and bulky, this is a nice lightweight option that can be quite discreet; you can easily slip this on under your gym kit or your work clothes and no one will even know you are wearing it.
This one also comes in a range of sizes, from Small to Xlarge, so no mater the size of your leg, there's a good chance that one of these will fit you like a glove.
Sizes
SMALL (Fits 11 – 14 Inch knee)

MEDIUM (Fits 14 – 16 Inch Knee)

LARGE (Fits 16 – 18 Inch Knee)

XL-XXL (Fits 18 – 21 Inch Knee)
King of Kings Knee Brace For Football
Those looking to play some football while nursing a knee injury should check this cool knee sleeve out.  This is ideal for sporting activities such as running, hiking, walking, basketball, tennis, surgery, and gym workouts like squats. Arthritis sufferers may also find that it brings them pain relief.
What makes this brace different from the rest is its unique 3-layer design, specially engineered for superior comfort and stability. It also has been made neoprene fabrics with excellent breathability and wicking to let the moisture slip out and soft lining to feel cool on your skin – no rashes or irritation here.  Also, you will be pleased to know that it is fully adjustable and fitted with 2 spring steel side stays for ultimate protection, so you can make it fit your own knee well. 
We know how much some people value their color schemes and looking good in their gym cloths, so if you've got a strong preference for matching colors, this brace comes in black, blue, orange, green and pink varieties, so you can find one that won't mess up your cool style if looking good on the treadmill is important to you.
Hinged Knee Strap for Running by Vive
This hinged knee brace by Vive is perfect for active sports players with weak, injured or arthritic knees.  Pop it on either leg and begin to feel good in its extra support and comfort. .This has been made with extra strength fasteners that let you easily adjust the sleeve to your knee size, and make tightening or loosening it easy. The unique point about this brace is its aluminum support hinges that reduce lateral movement of the knee. The hinges are located on both sides of the knee for added support, but they can also be removed easily if you don't want them, but they do improve medial and lateral stability, helping reduce injury and assist recovery.
It also gives compression to the knee, which can be beneficial to injured ligaments, tendons, joints, and muscles. ACL, MCL and patella support for strains, sprains, instability and patellar tracking.  Finally, it is made from lightweight neoprene, making it breathable and comfortable to wear.  This is a good brace that combines both light weight with its extra support hinges, meaning it is good for minor and major pain and injury, and you can always take out the hinges once your knee is getting stronger.
Venom Neoprene Knee Brace
Venom is a company that makes professional sportswear and sponsors many MMA fighters, so you can be confident that there is a lot of quality and expertise behind this brand.  The form-fitting design of this knee sleeve conforms to movement of your injured knee, simultaneously allowing a complete range of motion while also absorbing the high-impact shocks that comes with strenuous activity. Anyone with a knee injury who wants to keep on running, hiking, tennis, golf, soccer, volleyball, cycling, basketball, softball, baseball will find that this brace suits them very well.  IT also has adjustable straps to help you get it as tight or loose as you want.
Recently suffered from Arthritis, Meniscus Tear, Joint Pain, ACL / MCL / PCL / LCL Tears, Osteoarthritis, Runner's Knee or other chronic or minor types of injuries?  The compression of this knee splint will give you increased circulation to help with that as well.
This comes in sizes S, M, L, XL for a secured fit. Also, once you buy it, you can then get a complimentary PDF from Venom which gives you information on healing your knee and exercises to strengthen it, which is pretty useful as far as freebies go.
Power Sports Outdoor Knee Protector
This open-patella design brace is great for nursing an injury or helping a weak knee perform will at the gym or out on a long hike.  It is super comfortable to wear, and it keeps your knee supported without restricting its movement restricting movement, so whatever sport or activity you are into, you can do it with this on.  It also has dual side stabilizers for max protection, and it is fully adjustable for a perfect fit.
Not only does this give you extra strength and stability at the knee, it is also good for pain relief, as its gentle compression increases circulation to the knee.  So if you've had a recent strain, you can pop it on and you'll feel better very shortly as it reduces Inflammation and Swelling from Arthritis, Bursitis and Tendonitis.
If your knee is weak, but you don't want to give up on high intensity exercise such as football, basketball, volleyball, tennis, wrestling, CrossFit, golf, bowling, fencing, cycling and soccer, then this brace will help you stay active and stay ahead of the game. 
Compression Sleek
 Knee Sleeve
Both men and omen looking for relief from knee pain should check out this great knee protector sleeve from Compression Sleek. This has been specially designed to aid with a variety of conditions including torn Patellar Tendonitis, Sciatic, Bursitis, Knee Injury, Swollen Knee, posterior cruciate ligament, medial collateral ligament, and lateral collateral ligament.
This kneecap compression brace is excellent support for Basketball, Football, Tennis, Volleyball, Weightlifting, Skiing, Running, Jogging, Walking, Hiking, Wrestling, Yoga, Gymnastics, Squats, Baseball, Martial Arts, Golf, Hockey, Dance, Soccer, Crossfit, Powerlifting, Gym Workouts, Cycling or Any Sports Activities. It works by supporting and stabilzing the knee joint and its muscles, but doesn't restrict movement too much, so you can still work out but you won't over stretch the knee, and wearing it will reduce the risk of re-injury .
This is made from lightweight adjustable black neoprene, polyester and OK flexible fabric compounds, and it has velcro and elastic stabilizers that keep it light, protective, and comfortable.  It also looks pretty cool, and its black and yellow color scheme will hopefully match well with your sports clothes. 
Do You Sleep with a Knee Brace On?
This is one of the most common questions we get asked about these braces.  Generally speaking, most should be worn for at a time during which you are exercising and need the extra support, and maybe for an hour or two afterwards, and most medical professionals do not recommend wearing them during sleep.  However, you should always follow the adivce of your doctor.  There are some braces, such as plantar Fasciitis braces for your feet or night wrist braces, which are designed for sleep, but we haven't come across any night brace for knees in our research.
How to use Knee Brace and Knee Support