For such a small part of your body, an elbow injury can really mess you up and make simple everyday tasks like cooking and cleaning a real hassle.  Worse still, if you work in an industry like engineering, mechanics, sports or anything that requires physical effort, it may keep you on the sidelines for way too long and seriously affect your earnings.  Therefore, you really want to do as much as you can to make sure that your elbows are in good shape, whether you are a construction worker, pro athlete, sports fanatic, or just someone who cares about their heath. A good elbow compression sleeve will help keep your elbows out of trouble and avoid injury.
Compression sleeves work on many levels.  While not as strong as a brace or a strap, they first of all can give your elbow muscles and ligaments a bit more support, which will protect them from injury, so if you feel pains on tingles slowly creeping into your elbow, they can be a good way to make sure that it doesn't get any worse.  Most importantly, by providing compression on the area, they help to speed up and encourage the healing process by increasing the circulation of blood to the injury, which has many positive effects and can help quicken up the processes by which your body repairs the damage.  They can also be a good pain relief method for conditions like tennis elbow, tendonitis and elbow pain. In this article, we've searched through the internet and compiled a list of the best elbow compression sleeves we could find, all conveniently gathered in one place so you only have to look at one site.  Whether you are looking for some pain relief or you are playing a high impact sport and want some extra support for those elbows, you've definitely come to the right place.
Benefits of wearing a Compression Sleeve
Extra support – The compression sleeve will hold the muscles and ligaments in your elbow tightly, giving extra support which can be useful in strenuous excessive where it may need extra stability, such as weight lifting, MMA, or tennis.  This is generally very good for people who have healthy elbows, but want protection against a new injury in the future.  They won't give as much support as an elbow brace or elbow splint and they definitely won't be enough for a permanently damaged elbow.
Faster healing and pain relief – By increasing the blood flow to the affected area compression socks and sleeves speed up the healing process in a number of ways.  please see the section 'How Does compression Affect the Healing process' below for more details
Style – Let's face it, we all have a bit of shallowness inside, and with so many pro athletes, from professional MMA Fighter Frankie Edgar to Langston Galloway of the New York Nicks wearing them, they have become pretty hot fashion accessories, and can look great if they match your color scheme.  However, unlike a pair of earnings or a new handbag, these fashion items actually have scientifically proven benefits.
Copper Compression Elbow Sleeve
Get support and stability to stiff and sore elbows and joints with this great copper fit sleeve. Whether its for some extra stability at the gym or to help relieve the pain of swollen and sore muscles, this will let you do so in comfort and in style.  This can give you a respite from the pain of Golfers Elbow, Tennis Elbow, Arthritis, Tendonitis, Bursitis, Osteoporosis, and more!
This is made of an ultra comfortable fabric that will feel great on your skin, and it will help keep stiff muscles warm. Best of all, this will let you keep your full range of motion, so you can wear it to the gym, or just keep it on under your clothes if your nursing an elbow strain.  This is also perfect for sporty people as it can be washed, so you don't have to worry about it getting all stinky and sweaty.
This sleeve is infused with copper, and copper is a very effective in in eliminating odors caused by microbes, so again, this is a great sleeve for those who are doing intense sport or whose occupation involves a lot of physical effort.
Colored Compression Sleeves
Stay in style as you get super fast healing for your elbow with these great sleeves.  They are copper infused, so this will cut down on the microbes that cause awful odors and wells as keeping your muscles warm with therapeutic heat. They feel comfortable on the skin, and the copper also helps with moisture wicking, so the sweat can get out and evaporate. they will also give you that little bit of extra supprt during whatever activity you need it, from lifting weights to yoga.
These come in sizes from Small to X-large, and in a range of 5 vibrant colors, so for those who simply have to look their best on the treadmill, these will be perfect for for fitting in with your color scheme.
Nordic Lifting Elbow Compression Brace (1 Pack)
These sleeves from Nordic Lifting are the perfect accessories for Vikings men and women who whip up a fury in the gym and on the pitch. Each sleeve is woven from from top-notch Nylon yarn and reinforced with Spandex & Latex yarn for added compression, which will give you both incredible compression support as well as feeling lovely and soft on your skin.  As such, these will be great for injury prevention as well as pain relief for swollen, stiff and sore elbows.
This comes in the following sizes, and will be ideal for those into extreme workouts like CrossFit or climbing.
S:

 7.9" – 9.4"

M:

 9.4″ – 11.6″

L:

 11.6″ – 13.4″
 

XL:

 13.4″ – 15″
Venom Elbow Strap
Designed especially for for rehabilitation of joint inflammation, this sleeve uses target compression and heat therapy to increase blood flow, reduce muscle swelling, and alleviate pain and discomfort.  It will therefore be good for people who suffer from elbow tendonitis, tennis elbow, golfer's elbow, arthritis and general elbow pain.
Best of all, this is really durable, made of quality fabric that is guaranteed to withstand the wear and tear of every day workouts and also retain its elasticity and support.  We also appreciate its anti slip design, that will stop the sleeve getting all bunched up on you as you exercise.
Available in sizes S, M, L, XL, and it also comes with a bonus PDF containing information on elbow rehabilitation exercises. We list a lot of Venom products on our site, because they are a world class company that makes gear for many professional combat sports athletes including a number of UFC fighters, so they are a very reliable company that makes products with pros in mind.
Mava Sports Elbow Support
For those looking for a little extra support to help them out on the sorts field or in the weight room, these every flexible sleeves could be just what they are looking for. These are secially designed with injury prevention in mind, and can be good for pain relief from conditions like tennis and golf elbow, forearm Tendonitis, carpal tunnel syndrome, arthritis, and arm hyperextension pain.
What really makes this sleeve stand out is that it is made from a combination of charcoal and bamboo fibers, which not only make it very strong and flexible, but the natural fibers will be one of the best sleeves around for your skin, especially sensitive or easily irritated skin. This also comes in sizes from small to XX-Large, making it a good choice for weightlifters and body builders who have large arms.
The only bad thing we can say about this sleeve is that it doesn't magically give you the super muscular physic of the guy in the promo photo when you put it on.  Available in black and grey.
CopperJoint Copper Fit Sleeve
Looking for something durable, lightweight and comfortable to bring you some extra support ad warm up those stiff muscles while your hitting the golf course or the tennis court? Something to help control some swelling and help a mild elbow injury heal fast?  Don't want to worry about stinky and damp stinking out your gym bag? Then we have the elbow supports for you.
These sleeves will feel really great on your skin, and the copper will help both keep away nasty odor-causing microbes as well as keeping your joint warm and supported. These also have great anti-slip designs built in, so they won't slide of or get all bunched up when you're doing your thing.  Superior comfort and mobility is what is on offer here, and this will have you feeling great and fearless again.
Available in sizes Small to XX-Large.
Sparthos Elbow brace
Feel like a true Spartan Warrior with this elbow support from Sparthos.  While it won't give you the physique of the guys from 300 overnight, it will help keep your elbows secure, supported and warm while you are on the path. Whether you're looking for something to help protect you in the gym, or simply something to slip under your work clothes in order to help an elbow sprain heal, this will do both effectively and in style.
This tight sleeve ill fit you like a second skin, helping in both injury prevention and also compression and heat for healing an injured elbow.
We really like that this one comes in 4 different sizes and in a number of different colors, so for both arms of all shapes and sizes and different color schemes, you can surely find the elbow sleeve for you here.
Size chart:
S – Elbow Measurement 7″ – 8 1/2″
M – Elbow Measurement 8 1/2″ – 9 1/2″
L – Elbow Measurement 9 1/2″ – 10 3/4″
XL – Elbow Measurement 10 3/4″ – 12″
UFlex Athletics Elbow Compression Support
Athletes, dancers, body builders, golfers and all kinds of competitors who need some elbow supprt shuld check out this great brace, which is designed with sport and movement in mind. However, it will also be great for those who just need a bit more support going about their daily activities like gardening or ousehold chores.
What really makes this stand out is that it is made with advanced 3D knitting technology for graduated compression and a fit that will feel as smooth as butter on your elbow, plus anti-itch fabrics to make sure that you never get a rash or irritation.
Available in small, medium and large sizes.
Considerations for Buying an Elbow Compression Sleeve
Before you buy one of these braces you'll want to double check on a few things, as there can be quite a lot of variety in them.
Materials – A good sleeve should be made of a comfortable and breathable material.  You don't want it itching and irritating your skin, and as you will probably be wearing this while exercising or training, you'll want something that is cool and also something that won't make you sweat incredible amounts underneath.  Therefore, you should make sure that it is made of a good material.  Please be aware that some of these may have latex in them, so if you have a latex allergy, make sure to double check before buying.
Purpose – If you have suffered from a serious injury and need extra support and protection, a compression sleeve might not be the best thing for you.  They are great for pain relief and preventing new injuries, but they are not designed to protect pre-existing injuries while you are doing strenuous activity.  If you are in this situation, one of our elbow braces might be a better for you.  If in any doubt, please consult with your doctor.
Durability – You'll want to get a sleeve that will last you a long time, so we recommend looking for something made of sturdy fabrics and also something with double stitching.  this should make sure that it lasts for many years.
How long to wear it for – Unless you have been specifically advised to do so by a doctor, we don't recommend that you wear the sleeve all the time.  For one, its good to use it sparingly so you can air out your skin and let it breathe.  But mostly, these are just a little additional help to be worn during physical activity to protect your elbow from a new injury, or for compression for pain relief and a boost to the healing.  They are not a replacement for professional medical attention, nor can they repair a blown out knee or torn ligament.  So, it might be good to wear when you play tennis or lift weights, but it shouldn't be an all day everyday thing.
How does Compression Affect the Healing Process?
Even your grandma knows about the tried and tested RICE method for healing an injury  – REST, ICE, COMPRESSION, ELEVATION.   Compression plays a  very special part in all of this, because while ice is always gong to be just ice, you can make compression better by buying a better sleeve.  If you are curious as to just how compression works, here are some of the scientifically proven ways that it helps:
Reduces swelling – While we all know that Inflammation and swelling are really uncomfortable and a huge pain, you might not know that they actually get in the way of the healing process your body goes through. A good compression device will help cut down on swelling, especially if it is used with ice or some cold therapy.
Reduces edema – Edema is the excess fluid build up that occurs within a wound, and just like swelling, this can be a barrier to your body's natural healing mechanisms.  Also, this fluid can cut down on your range of motion around the wounded area, and especially in the case of knee injuries, make walking and bending the knee very difficult. It is not only elevation that helps remove this edema from the injured knee, compression also will help get rid of that excess fluid.
Lymph Fluid – One of the incredible things that compression does is to help stimulate the flow of lymph fluid, which carries vital nutrients, to the damaged tissues surrounding the injured or sore part of the body. Lymph fluid will also help out in the healing of the wound as it works to remove damaged and broken cells and tissue from the area, which is an important function during the tissue regeneration process.
Blood flow and circulation  – Damaged tissue can only repair itself with a steady supply of oxygen, and as we all remember from biology class, blood caries oxygen around the body. However, if your injury is swollen or inflamed, blood flow is reduced, and healing is greatly slowed down.  A good compression sleeve improve blood flow to the wounded area, thus increasing the amount of oxygen available to heal damaged tissue.
Faster tissue repair – When taking all of these factors into place, the increased blood flow and oxygen, the reduced swelling, the removal of excess fluid, and the increased flow of Lymph Fluid, compression simply makes the whole process by which your body heals and repairs its damaged tissue faster, which means less time on the bench or sofa for you and a quicker recovery.
How do you Strengthen Your Elbow?
As with any joint, you can both build strength after injury and help prevent injury with exercises and stretches.  Although you should always check with your doctor before trying these out, specifically if you have had a serious injury in the past, here are our top tips on building elbow strength.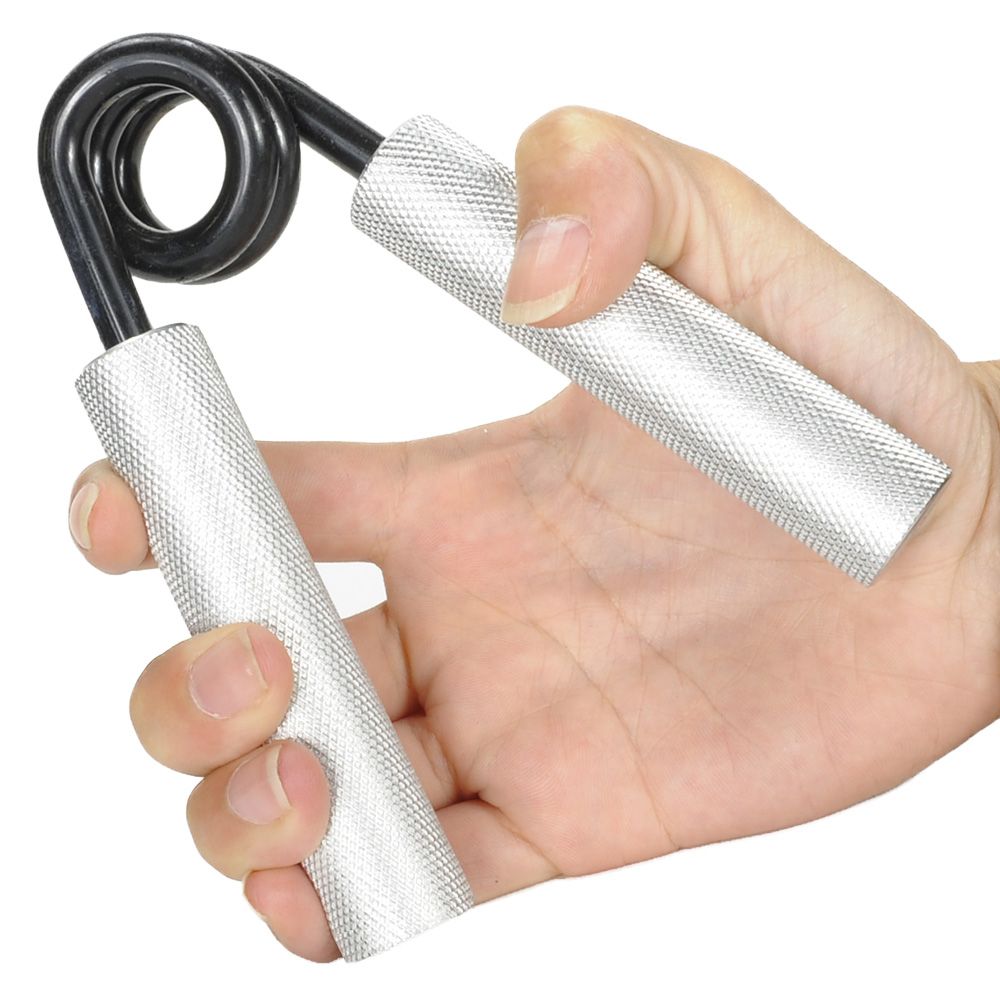 Grip Strengthening – working on making your grip stronger will help your whole lower arm, and take the strain of your forearm and elbow when you are holding a tennis racket or riding a bike.  You can find all kinds of grip exercises online, from simple things like towel and stress ball squeezes to other exercises.
Wrist and forearm stretches – as you know, stretching helps to prevent injury and ready your body for physical activity, and it does wonders for injury prevention.  do some good stretches to help loosen your elbow up so you can built strength there.
Dumbbell Exercises
Dumbbells are brilliant for building elbow strength as they are good for a wide range of cruches and reps that build up muscles all over the arm, from forearms to pecs and more!  Also, as Dumbbells move in all three planes, they build up the the assisting and stabilizing muscles more than machines. Try reverse wrist curls, wrist rotations and thumb-up (radial deviation) wrist curl and more to get more strength into your elbow.
Barbell chest presses 
Use a barbell to perform elbow strengthening exercises such as wrist curls, reverse wrist curls, barbell curls, reverse curls and triceps extensions.  This is a brilliant way to build up strength and stability in your whole arm, shoulders and chest, and it will lead to making your elbows a lot stronger, provided that you do it correctly.  Make sure you get a proper trainer to show you how to do these, start with light weights, and always get a spotter.
Press Ups and Chin Ups
Pull ups, chin-ups and press ups will help strengthen up your elbows with varied grips target all the gripping muscles of your forearms, plus build up your elbow flexing muscles.  If you can't do a lot of reps, you can use  bungee straps for assistance.  Push ups strengthen the triceps muscles in back of the upper arm. The great thing about these exercises is that as you are using your won body weight, it is usually a lot less common for you to injure yourself, and also you don't need to go to the gym in order to do these.  You can do press ups anywhere you go, and you can get a cheap yet effective chin up bar that you can use in your home.
Exercise bands
Resistance bands are great for the elbows and the muscles that support them as they use resistance as a way to get your muscles pumping, and really work well to build up the stabilizing parts of your arm.  They can also give you a bit of a cardio workout as you can do many high repetition exercises. Resistance band exercises for your elbows are things like wrist curls, reverse wrist curls, wrist rotations, thumb-up (radial deviation) wrist curls, hammer curls, biceps curls, reverse biceps curls, triceps extensions and triceps kickbacks.
What are the most common elbow injuries?
The elbows are another part of the body that get injured quite a lot, as they are used in a lots of sports, activities and occupations with lifting or repetitious movements like painting or sculpting.
Broken bones and Fractures – Mainly these can involve damage to the bones of the of the upper arm bone (humerus) or the forearm bones (ulna or radius) at the elbow joint.  Even a hairline fracture can be quite painful.  These can be caused by accidents or high-impact trauma, such as a car crash or a bad fall.
Tendinosis of the elbow –  This is what happens when their are microtears in the connective tissue in or around the tendon.  This can range from small sprains and tears to serious tears. They are more often caused by over use of the eblow rather than sudden trauma .
Tennis elbow (lateral epicondylitis). This  caused by overuse of the forearm muscles, commonly from sports, such as tennis, swimming, golf, and sports involving throwing; jobs, such as carpentry or plumbing; or daily activities, such as lifting objects or gardening.  Playing some instruments, such as the guitar, can also cause it.
Golfer's elbow – This is very similar to tennis elbow, except that the pain is felt on the inside of the elbow In children who participate in sports that involve throwing, the same elbow pain may be described as Little Leaguer's elbow.
Elbow Bursitis – Bursitis is inflammation of a bursa, a small sac of fluid that cushions and lubricates areas in the body where bones, tendons, ligaments, muscles, and skin rub against each another. This is often inflamed due to overuse or continuous strain. Rest and ice are the most common treatments, but bad cases can require treatment.  It needs to be monitored, as sever cases can require medical intervention, as a swollen bursa can go septic in the worst cases.
Flexor Tendinitis – Repetitive throwing or similar motions such as tennis and squash can can irritate and inflame the flexor/pronator tendons.  These are attached to the humerus bone on the inner side of the elbow. This causes pain and discomfort on the inside of the elbow when throwing, and if the tendinitis is severe, pain will be constant, even when the elbow is not in use.

Ulnar Collateral Ligament (UCL) Injury – The ulnar collateral ligament (UCL) is the most commonly injured ligament in sportsmen and women who throw a lot, such as baseball, cricket or volley ball. Injuries of the UCL can vary a lot in pain and severity, from from minor damage and inflammation to a complete tear of the ligament, which will require urgent medical attention. This kind of injury can cause a lot of pain on the inside of the elbow, and can really sap your strength in the affected arm.

Valgus Extension Overload (VEO) – This occurs when during sorts or intense activity, the olecranon and humerus bones are twisted and collide with each other. Over time, they can grind and grate against each other, and this leads to valgus extension overload (VEO), a condition in which the protective cartilage on bones are damaged and worn off.  Patients with with VEO experience can experience swelling and pain at the place where these two bones have the most contact with each other.