Whether your a medical student, a nurse, a doctor, or simply a concerned parent, you'll need a good stethoscope in order to take care of your patients or family.  Stethoscopes have been a standard and indefensible part of the medical profession for many decades now, and they don't look like they are going to be replaced any time soon. Amoung the ultimate and most elite of all is the Litmann Stethoscope.
This design of scope was invented and patented by the world renowned Doctor David Littmann, a cardiologist and Harvard Medical Professor. If you are looking for the very best in terms of quality, effectiveness and accuracy, you really have to get a Littmann, and here at Apex Health and Care, we've brought you a selection of the top-quality Littmann scopes out there, all in one convenient place for you to search through.  Save yourself the hassle of crawling through the internet and get one of our Littmanns today.  Remember, your patients deserve the very best, and so do you.
Benefits of Littmann Stethoscopes?
As you are no doubt aware, a stethoscope is an medical device for that is used to listen to the internal sounds within the human body.  This process is scientifically called auscultation. They have a large disc (the diaphragm and bell of the stethoscope) attached to a tube which feeds into two ear pieces.  The most common stethoscope uses are to listen to the lungs heart, intestines, arteries and veins, and they can be used with a blood pressure cuff to measure blood pressure. There are digital stethoscopes and acoustic stethoscopes.
So what is it about the Littmann scopes that make them so special and in demand? Well, its really simple.  We won't bore you with the science behind their construction and design, but you should be aware that in clinical testing, Littmann stethoscopes were often more than four times louder (20 dB) then other scopes when listening to an adult diaphragm.  That is comparable to the difference between whispering and talking! So by going with a Littmann, you can hear just so much more than any other scope, making your examinations much easier and making prescribing treatments more accurate ad helping you to provide the best care you can to the patient.  That is why Littmann is the premier brand in the world of stethoscopes, simple as that.
Littmann also have many really unique features.  While most stethoscopes require the user to turn over the chestpiece to switch between listening to high and low frequencies, the special Littmann design only uses on chest piece.  Instead, a pressure gauge can be manually tuned in order to move between hearing the low and the high.  This makes its use quicker, faster and more adaptable than any other scope on the market.
They are also made in the USA to vigorous standards and testing, and the materials used in them are top of the range and modern.  A bad stethoscope can make diagnosing a patient extremely difficult, so why not save yourself the stress and anxiety by simply investing in the best scope around?
Top 10 Littmann Cardiology Stethescopes
3M Littmann Classic III Stethoscope
Looking for the very best in terms of high acoustic sensitivity and exceptional performance ? The classic 3M will do just that. With dual tunable diaphragms and an updated design that allows for easy maintenance an cleaning, this is the ultimate stethoscope.
What really makes it stand out is its versatile two-sided chestpiece with tunable diaphragms, allowing both doctor and medical studets to get the most out of this instrument. For assessments of the heart, lung, and other body sounds for patient monitoring, and diagnosis and instructions, there's nothing better. Updated features inculde a new single-piece diaphragm, a pediatric side of the chestpiece converts to a traditional open bell by replacing the single-piece diaphragm with a non-chill rim, next-generation tubing with improved resistance to skin oils, and much more. This is also fully latex free, so its great for patients or doctors with latex allergies.
This also comes in a ridiculous range of colors and finishes, so if you are really into matching the color scheme of your clothes or surgery, you can with this.  Style and effectiveness can go hand in hand..
3M Littmann 6156 Cardiology IV Stethoscope
If you are monitoring the chest and lungs of patients, you really need a stethoscope that will bring you outstanding acoustics and better audibility of high-frequency sounds, and this will do just that. It has tunable diaphragm so that you can hear both high or low frequency sounds, and you can switch between them by slightly adjusting pressure on the chest piece. Plus, it also is built with dual-lumen tubing, which allows for two sound paths in one tube.  this is an ingenious way to eliminate the rubbing noise caused by traditional double tubing. This is also latext free, and the headset can be easily adjusted for a better fit and comfort, which also helps with better readings.
This cardiology stethoscope isn't just for cardiologists, it is used world wide by a number of professions ranging from specialists and and family doctors, pediatricians, critical care nurses, EMTs, medical students, and others to assess cardiac, lung, and other body sounds in adults and children. This is a made in the USA product that comes with a seven-year warranty and both large and small ear buds.
Like many other Littmanns on this list, this also comes in a range of different colors ad finishes, which may be important to some and just a cool bonus feature to others.
3M Littmann Master Cardiology Stethoscope
Coming with one of the best acoustic responses possible from a stethoscope, this Littman 3M cardiology Stethoscope is definitely top of the class in all areas. It has unique tunable diaphragm technology—a 3M invention—to make its use even easier.  Unlike two sided models, in which the diaphragm must be turned over, the 3M lets you calibrate between high and low frequency sounds imply by adjusting the pressure gauge on the instrument, meaning less hassle and quicker diagnosis, benefiting both doctor and patient.  It also has a non-chill rim, meaning it is really comfortable, and a great choice to use with children and babies.
The headset can easily be adjusted for a most comfortable fit, which helps keep the doctor happy and also allow the ear buds to set in a place where they provide the best audio.  This also features next generation tubing, which is so flexible that the scope can easily be folded into a case or lab coat, and it will last for a long time before it needs to be replaced.
With a tunable diaphragm, dual-lumen tubing, and a precision, ergonomically designed, stainless steel chestpiece, the 3M Littmann Master Cardiology Stethoscope really is a master work!
3M Littmann Classic II S.E. Stethoscope
Once again, Littmann provides you with the ultimate in terms of stethoscope technology, bringing a perfect combination of accuracy, reliability and durability, making them the best choice for doctors all over the world. High acoustic sensitivity in a dual-sided chestpiece combines with durable, compact design to deliver versatile auscultation and rugged dependability.
This has many of the standard Littmann features, including their famous tunable diaphragm that responds to simple pressure changes in order to allow the user to  capture low and high-frequency sounds without the need to turn over the chest piece.  Its headset is also anatomically designed to give the best comfort to the doctor, and the whole scope includes only latex-free materials so it can be used with allergy sensitive doctors or patients. Best of all, there is a non-rim chill for added patient comfort.
Once again, Littmann really nails it in terms of quality and effectiveness.
3M Littmann 2122 Classic II Pediatric Stethoscope
Looking for a Littmann especially made with pediatrics and child medicine in mind.  With this model, they've got that covered too.
This Littmann 3M is  is specially designed for use on smaller patients, meaning it will be good for children and small adults. It gives you all the same features and top quality as other littmanns, just in a smaller package, so you'll still have the  high acoustic sensitivity,  and this one uses a dual-sided chestpiece for both high and low frequency sounds.  For those who need to monitor the heart, lung, and other body sounds for physical assessment and diagnosis in pediatric patients, we can't think of a better stethoscope for you.
With superb acoustic performance, consistently high quality, and outstanding value, this Littmann is a symbol of a good doctor who only uses the best instruments in odrer to give the best treatment to his patients, so if you are a pediatric doctor, check this one out.
Littmann Pink Stethoscope
Proof that you can still be professional in hot pink, Littmann Stethoscopes are world renowned for being some of the best medical grade scopes there are, and they are used by doctors and hospital staff the world over.
This lightweight pink stethoscope give you very clear audio , and  its tunable diaphragm and dual-sided chest-piece gives reliable acoustic performance. Its teardrop shape makes auscultation around blood pressure cuffs easier.  This also features the amazin and highly durable tubing that is standard with all of this brand, and it definitely doesn't compromise on quality in any form.  So if you really want a Littmann but it absolutely must be in pinjk, this is what you want.
Taking Care of Your Littmann
Once you've invested in getting a Littmann, you'll want to take good care of it, as this is a premium medical instrument that should last you for many, many years.   Also, bu maintaining it well and keeping it free of dirt and grim, you will be preserving its effectiveness and reliability.  So here are our tips on how to take care of your brand new stethoscope.
Storage – Even though the tubing on a Littmann is remarkably flexible and very durable, the way you store the device is going to make a big impact on how long those tubes last.  Damage to the tubing will impair your ability to hear what is going on in your patients body, so this is really of the utmost importance.  Storing it well will also keep it away from dust and grime that might make it difficult to use and also non of your patients are going to want a dirty stethoscope on them.  Therefore, we recommend that when not in use you store the scope away in a medical bag or in a proper stethoscope case.  You can find these online and in medical stores.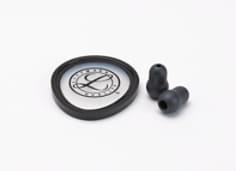 Replacing parts – Even if a part of the stethoscope becomes damaged, it doesn't mean that you have to throw it out and get a new one.  Replacement parts are commonly available in spare parts kits, and you can look up instructions online or with your original seller in order to figure out how to install the new parts in your instrument.  Remember, though, since you've gone to the trouble of buying a Littmann, only use replacement parts that are also made by littmann.  You don't want to mess up your expensive stethoscope by putting cheap replacement parts in in.
Cleaning – For both hygienic and accuracy readings, its a good idea to clean your scope out from time to time.  Ear wax or other gunk in the ear pieces can get in the way of the sound, as can grungy build ups around the diaphragms. Dirt, dust or fluff to can also accumulate, which will impair auditory performance.
Although some might differ, most manufacturers  advise against the application of liquid, particularly solvents, as these can cause permanent damage to the instrument.  Submerging the scope in liquids can be catastrophic.  Therefore, always check the instructions for how to clean.  In many cases, alcohol or other wipes can be used, but check first.  While cleaning it out, also check for cracks or damage that could impair its usefulness.  Don't worry if something has taken a bit of a bump though, as replacement parts are usually available.  Also, don't forget to take of the ear buds and give them a good clean too.  Ear buds are also easily replaceable, so if they are looking a bit crusty from ear wax and sweat, it might even be better to simply replace them once a year or so.
For more info on cleaning it, check this wonderful and informative video out: