Having the right soft cervical collar is important if you want to make a full recovery in some form of comfort. You may not be aware of this, but neck pain is one of the most prevalent and costly health problems in many developed nations. Studies have shown that in the USA up to 70% of adults will experience it at some point in their lives.  Interestingly enough, around 85% of neck pain is caused by acute or repetitive injury to the neck or stress related symptoms, rather than major accidents like car crashes, whiplash and such, and for many, neck pain remains a bit of a mystery as it results as a combination of many factors.  For many, a good soft cervical collar will help give them some pain relief and help up with healing.
Here at Apex Health and Care, we only want to very best for our customers, as we know how important your health is in maintaining your quality of life, especially your neck, so we have put together this guide showing you the best cervical collars, neck supports and much more in order to help you heal and maintain and healthy neck and spine.  We've got all shapes and different sizes to suit all different kinds of people.  Everything has been manufactured to meet health and safety guidelines and extensively safety tested, so you can buy with confidence.
What are Neck Braces for?
Regardless of whether you are recovering from injury, surgery, or have neck problems due to lifestyle or habits, all braces and collars for the neck are aiming do three things:
immobilize your spine during healing
stabilize injured areas
control pain by restricting movement
There are two main types, soft cervical collars, inflatable collars and neck braces.
Cervical Collars – These are generally the most common type, although they are the ones you don't notice as much because they are not as big and bulky as the others. They are usually made from soft rubber and surrounded in a lining material such as cotton or flannel. in most cases, they are prescribed for acute and moderate injury, such as whiplash or neck strains, and they work by adding a bit of support to the damaged muscles and also holding the neck in place so as to avoid any movement that might make the condition worse.  They can be easily taken on and off, and are quite comfortable to wear.  Your doctor will advise you whether or not this should be worn 24/7, for hours at a time, or only during certain activities. Sometimes there are only needed for a few weeks
Rigid Braces –  These are the types of collars that most people think of when they hear 'neck injury', although in our experience unless they work in hospital or clinic most people have only seen them on TV and in movies as they are rare in real life. Some of the popular kinds are the Miami J collar and the Philadelphia collar.  They are usually made from molded plastic, and can often have spring steel or aluminum rods as supports.  A two piece padded liner is also used to give comfort to the patient, one at the back and one of the front.  These give maximum support and stability to the neck and make moving it almost impossible as it needs to be held in place during the healing process.  These are often only used for the more severe spinal injuries, such as a fracture to the neck, or for post surgery recovery. They may be needed for as much as 6 months depending on how bad the accident was.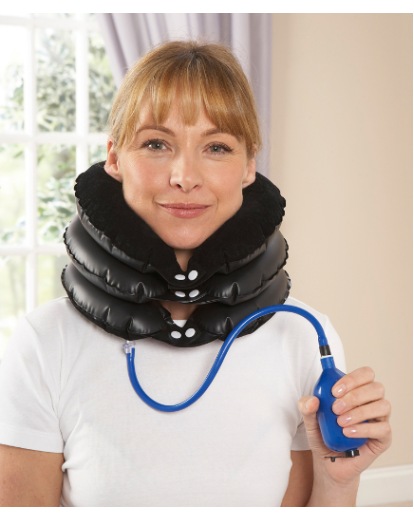 Inflatable Collars – These come on the mildest end of the spectrum, as they won't quite give you the level of support from either of the other types of collar.  As such, they are not really recommended for post-surgery recovery or for serious neck trauma.  However, they can be really good for pain relief, as they provide a lot of compression, which increases circulation of the blood to help heal and injured muscle.  They can also be good for trip on the plane or train to keep your head upright while you sleep.
The Review: 11  Soft Cervical Collar 
TOROS-GROUP Ergonomic Neck Support Brace
This great neck support has been designed with a special extended hook and loop closure, which means that it fits much better than most other brands. Medium density foam with contour design helps to restrict the motions and movement that will make the neck damage worse, and also ensure that it feels comfortable to wear and gives the neck ligaments support. This is covered with 100% beige cotton, which allows for better breath-ability and moisture absorption.
This collar, when properly positioned under the jaw, works its magic by taking some of the weight of the head off the neck, and it also keeps the neck comfortable and warm. Also, as it is cotton, it will be very durable, and hopefully, this will be the only cervical neck product you ever need.
Surgical Collar by Vive –
If you are looking for superior pain relief and injury support for you neck, than look no further!  Cervical support collar holds the head under the jaw to relieve weight and pressure in the spine, all the while limiting any dangerous neck movements. This can be worn throughout the day to help with stabilizing vertebrae, and it will even be nice and comfrtable while you sleep. This non-rigid brace may also relieve headaches caused by cervical strains and sprains. It may also be good for recovery after mild surgery.
This can accommodates neck circumferences ranging from 15"-20.5", while will be fine for most people, and you simply wrap it around your neck and fasten the velcro once it feels good.  You can also easily adjust this if it is too tight or loose.  It has plush foam padding to give you a warm and comfortable fit, and it is made of a breathable knitted material to keep your neck cool and smooth. This is also latex free, and comes in black or white, in case you have  strong preference for either color.
Hely Weber Cervical Collar 2″ 619
The Hely & Weber Cervical Collar 619 has been expertly designed and manufactured to provide ergonomic support of the highest standard to your stiff neck. With a medium/ firm density urethane core that easily fits around your neck, this will always give everyone a comfortable fit and its vinyl strap brings additional support and durability against from daily wear and tear. The core has a special stockinette covering which helps your skin by first feeling soft and removing and cause of irritation while also letting it breath.
We really like that is available in either 2″, 3″, or a 4″ height, as so many neck collars are simply 'one size fits all' but there is definitively not one size of neck in the world. e. The Hely Weber Collar may help with any number of cervical injuries, including strains, whiplash, text neck, neck pain, inflammation and more.
Double Layer Soft Neck Support
Made of a made of medium density mixed sponge and a bi-layer stack of high elastic EVA foam, this collar tops of the chars in terms of both its comfort and resilience. The brace supports the jaw and neck, holding the neck in the correct posture while it is also stabilizing the vertebrae and helping to relieve the pain caused by pressure in the spine. The non-rigid collar  may help with headaches caused by cervical strains and sprains.  Whether you've had a bad bash on the football field or you're coming off a mild surgery, this will help in your rehabilitation provided that you rest up and take care of yourself.  You can also wear it while you sleep, and it is small and compact enough to take with you wherever you go.
What really makes this one stand out is its unique and innovative design.  It has a V shaped contour under the jaw for added comfort as well as a the curve rise at the back to ensure stronger and more stable support for the neck than most other styles of collar. Velcro straps can also be used to adjust the level of compression.  This also absorbs sweat quickly, and it is fully latex free, so great for those with allergies.
Finally, this is really easy to put on and will fit most necks, so it is a 'one size fits most' product.
Available in the following sizes
S: Neck circumference 10 1/2″-11 1/2″ / 27.0-29.0cm, Neck length 2 3/4″/ 7.5cm
M: Neck circumference 11 1/2″-13 1/4″ / 29.0-33.7cm, Neck length 3 1/8″ / 8.0cm
L: Neck circumference 13 1/4″-16 1/2″ / 33.7-42.0cm, Neck length 3 3/8″ / 8.5cm
XL:Neck circumference 16 1/2″-18 3/4″ / 42.0-48.0cm, Neck length 3 3/8″ / 8.5cm
Premium Universal Soft Foam Neck Support Brace
Help get your neck back into shape and kiss neck pain goodbye with this amazing soft cervical support. This brace keeps you safe and supported by restricting your head movement head movement which can speed up the recovery time for accidents like a herniated disc, spondylosis, neck sprain and other medical conditions that affect the vertebrae. It also limits your cervical motion, so it will stop you from moving your neck in an unsafe way and remind you not to make sudden or jerky movements.  Therefore, you won't be in a position to re injure yourself.
This feels very comfortable on your skin, and its Velcro straps will let you tighten or loosen  it in order to get the desired level of compression.  You can also wear this while you sleep.  Whether its for whiplash, neck train or just too much time texting, this collar will have you right as rain in no time.
Caldera Releaf Neck Rest
This is an innovative neck rest that is designed to give your neck comfort and support wherever you need it, be that at work, while you sleep, on the plane or anywhere else. A multi purpose collar with an adjustable contour fit to make you feel like your neck is being hugged by angels.  It is lightweight, easy to carry, and you can always slip it in your bag and take it with you on a flight or long bus and train journeys.
Core Products Foam Cervical Collar
This made in america collar has a a filling of low density foam covered with a 100% cotton stockinette, to give you both the very best in terms of comfort and support. It also has  a contoured design and hook and loop closure to make it easy to adjust and get the perfect fit.  While wearing it, the head is held in a neutral position while the jaw is supported, which helps with pain relief and healing by taking pressure off the neck and serves as a gentle reminder to make sure that your head doesn't make and dangerous movements that might reopen a wound or cause more damage to a strain or whiplash.
The collar will fit most adult necks up to 24" (61cm), and it comes in 4 sizes from 2 inches to 3 inches high. We really like this one as it is hand washable, so in the event that you have to wear it alot, you can easily wash off all that grime.
Coreline Cervical Collar
Don't let neck pain hold you back from living your life to the fullest and pop this soft collar on. Optimal neck support will help you heal without completely restricting your range of motion, however the collar will serve as a reminder to you if you move your neck or head in a way that will be unhealthy.  The cushioned but firm foam offers both protection and support as well as comfort, the ideal for a swift recovery. Best of all, the foam core is lined with a very a soft cotton blend, so you won't have to worry about itchy or irritated skin.  Also, as cotton is breathable, this will help your neck stay cool.
You can also hand wash this with soap and cold water, so even if it does get a bit grimy and stinky, you can  get the dirt and smells out easily.  If you do, make sure you hang it to dry as your dyer might destroy this.
This comes in small, medium and large for  neck circumference of 14″ – 25″, so even if you have a very big or small neck, one of these should be an ideal fit for you.
Banglijian Cervical Neck Traction Collar
Looking for instant relief from neck pain and shoulder discomfort?  This inflatable collar might just be the ticket you've been looking for!  With a triple tier inflation system and a hand pump you can use to get the perfect amount of compression, the cervical traction device is fully adjustable and will be great fit for all necks, big and small.  The manufacturers recommend using it two or three times a day for 30 minutes at a time to bring you long lasting pain relief from the stress and pressure of neck pain, shoulder pain, tension, muscles spasms, head & cervical vertebral area pain and even pinched nerves.
This is small and compact, and you can easily take it with you on train journeys, flights and more.  While this might not be the best thing for very serious pain and post op recovery, if you have mild nagging pains or tingling, this might be exactly what you are looking for.
Heat Therapy Neck Brace
Do you often suffer from a stiff and sore neck.  Very painful first thing in the morning?  Well, we might have just the brace for you.  This lightweight and easy to adjust neck support has special pads built into the fabric that heat up as you wear it, giving you extra warmth and heat therapy to help with your neck pain.   It is made of premium cotton, so it will feel smooth and soft on your skin, and you won't have to worry about rashes or irritation. You can also easily wash it, just in case it gets a bit grimy and sweaty.
This has been specially designed for office workers who spend long hours at a computer or hunched over a laptop or tablet, and it can really help alleviate some of he cramp and soreness that comes with this type of work.  Therefore, if you fall into this category and find that your neck is often stiff from many hours at your desk, we recommend you try this out.
Keyfit Cervical Support
Made from a breathable and comfortable blend of latex free foam, this brace will help stabilize the vertebrae after injury and reduce head and neck movement so as to avoid making it worse.  Ergonomically designed, it uses its plush foam cushion with contoured fit  to give maximum support and comfort to the neck and jaw line, keeping you safe and allowing damaged muscles, ligaments and vertebrae to heal up nicely.
This comes in three different sizes, so hopefully everyone can find a fit for there neck with this foam collar.
Common Neck Injury and Neck Pain
If you have long lasting or occasion neck pain and tingling the chances are that you have one of these conditions.  If you do, then perhaps on of our soft cervical collars will help you get some pain relief and encourage the healing to speed up:
Whiplash. Everyone knows about whiplash.  This is one of the most common types of neck injury, and it occurs when a which sudden or violent action causes your head to quickly snap off in one direction, usually backwards or forwards. This causes damage to the soft tissues in your neck, including muscles, ligaments, and nerves, and it can lead to a variety of symptoms, such as neck pain and stiffness, headache, dizziness, and tingling, numbness, or weakness in your neck and limbs.  While it is most commonly associated with car accidents, it is known to occur from sports, falls, and too much headbanging.
Repetitive strain. This is becoming more and more common every year, and it is linked to bad posture or lifestyle choices in which your neck is crooked or bent over in an unnatural way for long periods of time.  This could be sitting poorly at a computer or desk, and more commonly, it comes from craning your neck when you use your cellphone.  Over time, the muscles and ligaments in the enck become weakened and damaged, leading to pain, headaches and other issues.
Neck sprains and neck strains. When the muscles and ligaments in the neck become strained, pain and swelling can make moving it very uncomfortable and painful.  This is commonly caused by sporting injury, especially sports in which heads can clash like MMA, boxing, wrestling, football, basketball and more. However, the good thing about these is that they are usually cured simply best rest, ice and anti-inflammatory medicine.  In rare cases, surgery may be needed
Nerve pinch injury. A nerve pinch is better known in the locker room as  a "stinger" or "burner" injury. This is when the injury has pinched or compromised one of the nerves in the neck, and the result is often a stinging or shooting sensations of pain that runs through the neck and sometimes all the way down the arms. Pinched nerve symptoms typically go away fairly quickly, although if they persist, some kind of treatment might be needed.
Disk injury. This is a pretty serious injury tat happens when the vertebral disk, nerves in the neck may become irritated or damaged, and it can make you feel like your world is ending as pain shoots down your spine and legs. If you think you have a disk injury, please seek medical attention asap.
Vertebral fracture. A very severe accident or blow to the neck can result in a fracture or break to the vertebra.  This type of injury is always a medical emergency and requires immediate attention as a spinal fracture can damage the spinal cord and lead to a permanent loss of some  motor control or paralysis. It can even be fatal.
Spinal cord damage.  If the accident is severe enough to disrupt the vertebral bones designed to protect the spinal cord, damage to the spinal cord can occur. This is always a matter of the utmost seriousness, as the spinal cord carries the bodies connections of nerves through the body, and damage can result in paralysis and even death.
The most common causes of neck pain are:
Car accidents, especially rear-impact collisions
Falls
Lifting heavy objects
Repetitive activities, such as working at a computer
Falling objects
Sports, such as football, horseback riding, and hockey
Diving into unknown waters